Childhood Apraxia of Speech Evaluation Report Template - Download
Childhood Apraxia of Speech Evaluation Report Template - Download
Regular price
Sale price
$39.00 AUD
Unit price
per
Sale
Almost Here
Product Number 20006
Evaluating CAS can feel daunting and the LAST thing we want to worry about is trying to figure out how to write a report! Through hundreds of apraxia evaluations, training through Apraxia Kids, and tons of rewrites, this is the bones of my CAS report. I love this report because I am proud to have other professionals read it. It gives the reader a greater understanding of CAS and the research that supports a diagnosis. This report is created in Word on a Mac. You have the freedom to edit it as you wish. No standardized assessments are used in the report due to copyright. The GREEN sections I typically leave in the final report to provide a further explanation to families and other professionals regarding our reasoning and clinical decision making. The YELLOW sections are for you. In these sections, I explain my reasoning for specific areas in the evaluation report, give you guidance or special links. The BLUE sections are examples of tables I used in my report. You are encouraged to change, delete, individualize these tables.
This report is the result of a lot of hard work and training. Please respect the time and education I have put into designing and writing this report by not sharing copies with fellow clinicians. I greatly appreciate you sharing the resource with others but not copies. I welcome feedback and ideas to better this report!
This product is licensed for single use only. This means that this resource is licensed for use and viewing to the person that purchased it.
 *This product is a download and is not returnable*

©bjoremspeech 2023 www.bjoremspeech.com Bjorem Speech® *read terms of use
TAX EXEMPT: If you are a tax exempt company wishing to make a tax exempt purchase, please send your tax exempt certificate to us at support@bjoremspeech.com and we can discuss your options for tax exempt purchasing with Bjorem Speech. Reach out to us BEFORE placing any orders on our online store, as we are unable to refund taxes after the purchase has been completed. If you are tax exempt purchasing with a purchase order, please upload your purchase order and tax exempt form here:
https://docs.google.com/forms/d/e/1FAIpQLSfjM4-5dNpzgkdfBhAoo2Ti2pnwyKRZk5UbkR82Pq0QbSF1mA/viewform
Share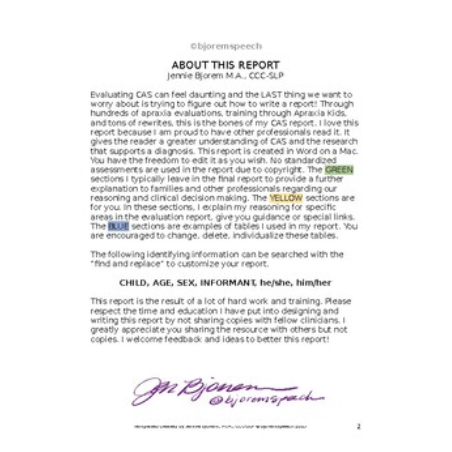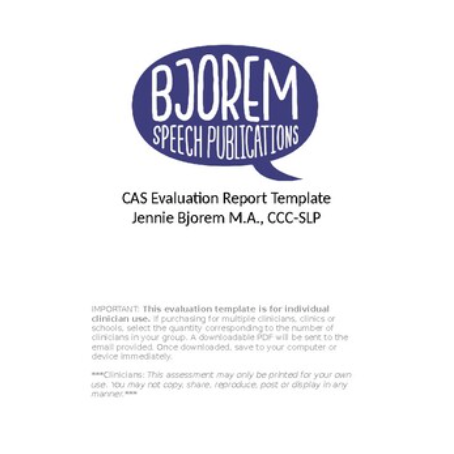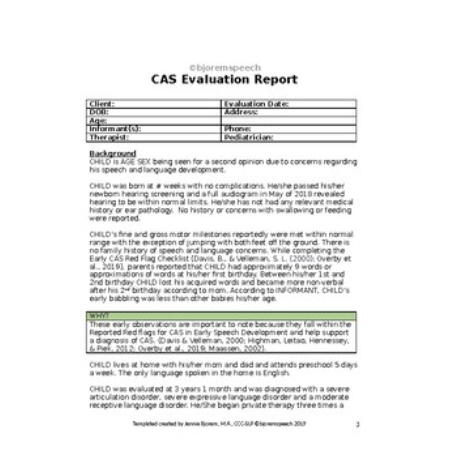 International Shipping

International Customers: Check for distributors in your area here. PLEASE NOTE: WE DON'T COLLECT VAT FOR PURCHASES TO OUR INTERNATIONAL CUSTOMERS, SO YOU WILL HAVE TO PAY IT WHEN YOU COLLECT THE PRODUCT FROM THE SHIPPING COMPANY OR POST OFFICE.

Return policy

Products may be returned within 15 days of purchase. Products must be unopened (plastic still intact). Return postage is the responsibility of the customer. Refund will be made once the product has been returned to the warehouse and has been determined unopened and unused.