Webinar- R Coarticulation
Webinar- R Coarticulation
Regular price
Sale price
$13.00 CAD
Unit price
per
Sale
Almost Here
Product Number 80000
Join Lindsey Hockel, MS, CCC-SLP for a live 1 hour webinar. 
Thursday November 9, 2023 at 9pm EST/8PM CST/7pm MST/6pm PST
Course Description: 

This course describes the use of coarticulation strategies to treat the R sound. Participants will learn how to use a student's strongest R contexts to scaffold achieving the R sound in contexts that are more difficult for the student to master. The variations of R discussed include prevocalic R, intervocalic R, and final vocalic R.
Learning Objectives: 
Participants will be able to:
explain what coarticulation is 

describe how to use coarticulation in a strengths-based approach for their student(s)

locate additional resources for coarticulation 
Bio: 
Lindsey Hockel is a Texas-based SLP who specializes in the R sound. She has a private practice where she solely treats students who struggle with R. She is also the owner of Speechy Things, LLC, a company that provides materials, content, and professional development dedicated to helping all SLPs feel confident in their ability to "Rock the R." 
Disclosures: 
Financial Disclosures:
Speechy Things, LLC receives a portion of every sale of Bjorem x Speechy Things cards,

including the R Coarticulation deck - this presentation is part of that contract. Lindsey is the owner of Speechy Things, LLC - receives a percentage of all sales of goods & services (therapy materials, consultations, resources, etc. Lindsey is licensed in Tx & Ca - provides therapy services for compensation. Lindsey is being compensated for this presentation
Non-Financial Disclosures:
Lindsey is a member of ASHA and TSHA. She 

provides free resources and education related to the R sound via Speechy Things, LLC
Content Disclosure:

this presentation focuses on how to use the Bjorem x Speechy Things R Coarticulation cards 

in therapy, though much of the concepts can be applied without specific use of the cards
Share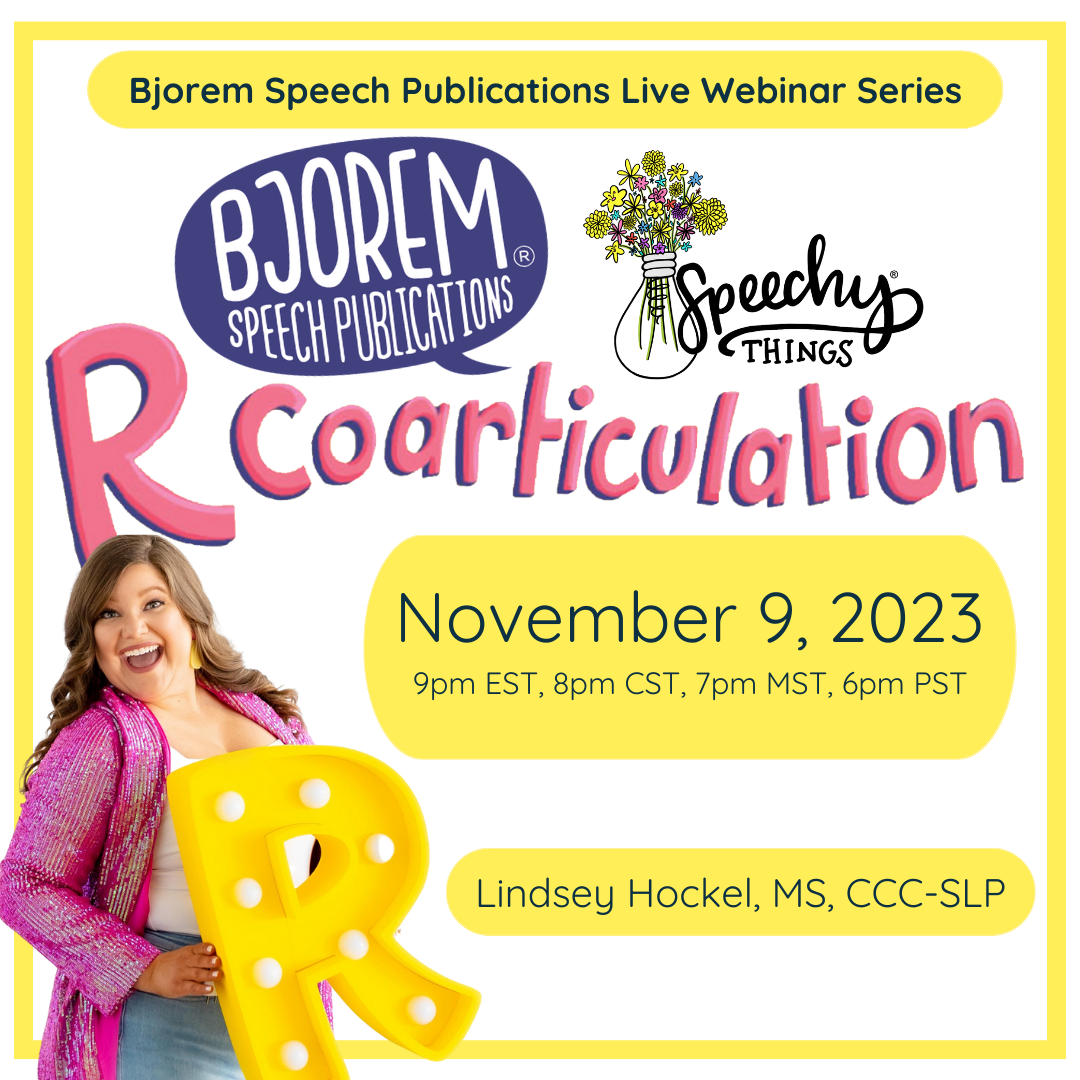 International Shipping

International Customers: Check for distributors in your area here. PLEASE NOTE: WE DON'T COLLECT VAT FOR PURCHASES TO OUR INTERNATIONAL CUSTOMERS, SO YOU WILL HAVE TO PAY IT WHEN YOU COLLECT THE PRODUCT FROM THE SHIPPING COMPANY OR POST OFFICE.

Return policy

Products may be returned within 15 days of purchase. Products must be unopened (plastic still intact). Return postage is the responsibility of the customer. Refund will be made once the product has been returned to the warehouse and has been determined unopened and unused.